On this dayMar 29, 1964
Group of Black and White Worshipers Arrested for Attending Easter Services at Segregated Churches in Jackson, Mississippi
On March 29, 1964, several white churches in Jackson, Mississippi, barred three Black men—including one minister—from attending Easter Sunday services, forcibly removing them from church or blocking their entrance. Two of the Black men and seven white clergymen who had accompanied them were arrested and jailed after the churches turned them away; their bonds were set at $1,000 each.

When Methodist Bishops Charles Golden, a Black man, and James Matthews, a white man, tried to enter the Galloway Memorial Church that morning, ushers on the church steps refused to let them enter, citing "church policies." As ranking members of the Methodist denomination, the two bishops asked to speak to the church minister, but the ushers refused to let them. While the men stood outside the church deciding what to do next, a white crowd harassed them with taunts and jeers until the men left the church grounds. In an interview, Bishop Golden would later question the wisdom of "those who presume to speak and act for God in turning worshipers away from his house."

Bishop Golden and Bishop Matthews were able to leave freely, but 10 blocks away, an interracial group of nine men were arrested when they attended Easter service at the Capitol Street Methodist Church. Ushers on the church steps tried to block them from entering, and when the group of men tried to go around the ushers, they were arrested and charged with trespassing and disturbing the peace. The group included two young Black men named Robert Talbert and Dave Walker and seven white men—clergy, theological teachers, and deans from several schools and colleges outside of Mississippi—who had accompanied them to the service. The men had carried with them a statement that read "To exclude some of those whom Christ would draw unto himself from church...on Easter...because of color is a violation of human dignity."

The day after their arrests, a judge convicted all nine men of "disturbing public worship" and sentenced them each to six months in jail and a $500 fine.

Several weeks earlier, Dr. Martin Luther King Jr. and the Southern Christian Leadership Conference (SCLC) had announced plans to lead anti-segregation protests in St. Augustine, Florida, over Easter, in response to recent violence against civil rights activists there. Dr. King urged Northern supporters of civil rights to travel South to join "pray-in" and "kneel-in" demonstrations at the city's segregated churches, and that Florida effort likely helped to inspire the activism in Jackson. Like in Mississippi, several St. Augustine protesters were also arrested—and even beaten—for trying to integrate Easter services at all-white churches.

This racist treatment of individuals seeking to attend church illustrates how many white denominations—particularly those in the South—remained defiantly committed to racial segregation as an essential component of white supremacy and racial inequality, even a decade after the Brown v. Board of Education decision. Three months later, in June 1964, Congress passed the Civil Rights Act of 1964; the law outlawed discrimination on the basis of race, color, religion, sex, and national origin but could not immediately end white Americans' massive resistance.

To learn more about the massive resistance of many white Americans to civil liberties and rights for Black Americans, see the Equal Justice Initiative's report, Segregation in America.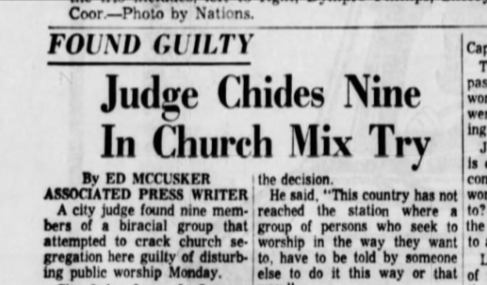 About EJI
The Equal Justice Initiative works to end mass incarceration, excessive punishment, and racial inequality.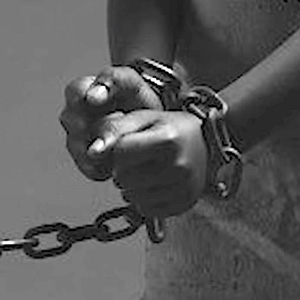 Learn more
About this website
Until we confront our history of racial injustice and its legacy, we cannot overcome the racial bias that exists today.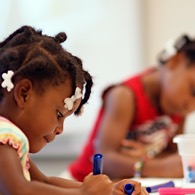 Learn more