On this dayNov 25, 1829
Enslaved Black Man Who Escaped University of North Carolina Targeted for Re-Enslavement
For decades, the University of North Carolina had an active slave leasing program, whereby the university "leased" hundreds of enslaved Black people to students for a fee. On November 25, 1829, after a Black man escaped the university grounds and sought his freedom, rewards were issued to effectuate his recapture and re-enslavement on UNC grounds.

Through this slave leasing program, UNC engaged in the active trafficking of enslaved Black people, by collecting fees from students to "lease" enslaved Black people back to them. Students paid a yearly fee in their tuition directly to the university for the labor of enslaved Black people. The university maintained contract agreements with plantations and local enslavers in Orange and Chatham County, as well as the university's employees, trustees, and presidents, who "leased" Black people they enslaved to the university. Consequently, through this trafficking program, UNC not only increased its revenue, but also enriched local enslavers.

Until 1845, students from families who enslaved Black people were permitted to bring enslaved people with them to campus. After 1845, the university prohibited students from bringing enslaved people to campus, but still authorized students to pay the university to "lease" enslaved Black people on campus. In 1860, 464 Black people were enslaved for the benefit of students, faculty, and employees at UNC.

On November 25, 1829, as part of this trafficking scheme, a graduate of UNC issued rewards for the capture of a Black man named James who had been trafficked to work at the university for the prior four years. James had sought his freedom from enslavement and ran away from campus. The ad was placed in several local newspapers and encouraged people with information about James's whereabouts to direct their correspondence to UNC to effectuate his recapture.

In addition to the leasing program which trafficked enslaved Black people onto the grounds of the university, UNC participated in and profited from the sale of Black people. In its founding charter in 1789, the university was given the right to sell enslaved Black people who had been enslaved by local white people who died without heirs. Under this agreement, white enslavers' "property," including enslaved Black people, was escheated to the university's Board of Trustees. In the 1840s, 10 years after the reward for James was announced, following the death of a local enslaver, the university sold the Black people that person had enslaved, earning $2,800, which amounts to approximately $83,000 dollars today.

To learn more about the history of enslavement in America, read the Equal Justice Initiative's report, Slavery in America.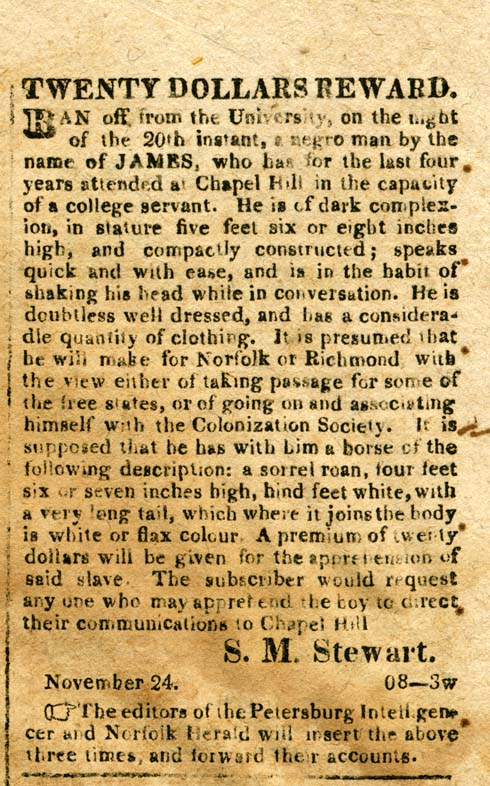 About EJI
The Equal Justice Initiative works to end mass incarceration, excessive punishment, and racial inequality.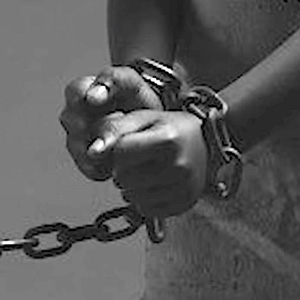 Learn more
About this website
Until we confront our history of racial injustice and its legacy, we cannot overcome the racial bias that exists today.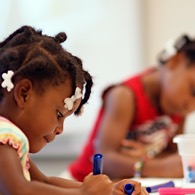 Learn more